Peppermint Bay Dinner Cruise
Saturday 18 August, 5:35PM to 11:00PM.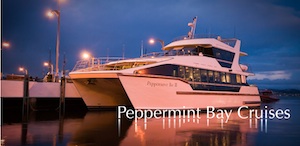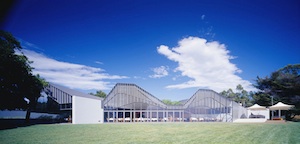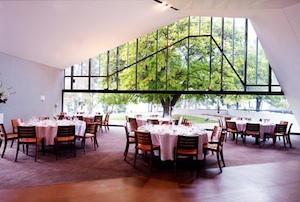 We're very pleased to be able to announce the final, hitherto unannounced part of PyCon Australia 2012 -- our conference dinner this year is being held offsite at Peppermint Bay, near Woodbridge, some 30km to the south of Hobart.
Taking advantage of the waterfront location of our conference venue, we'll be starting the evening with a one-hour twilight cruise from Wrest Point on the Navigators catamaran, MV Marana (with your choice of indoor seating, or outdoor viewing decks); following the cruise, Peppermint Bay will present a three-course dinner, featuring fresh produce from the local region and around Tasmania. Once that's done, we'll take you back to Wrest Point aboard the Marana.
We hope the dinner will be an excellent centrepiece of the conference this year, which will help make PyCon Australia 2012 a memorable event.
Important details
The cruise will depart from Wrest Point's docks at 5:50PM on Saturday 18 August, with boarding starting at 5:30PM. To get to the dinner, you'll need to be at the boat before 5:45PM sharp. We don't plan on making alternative transport arrangements, so if you miss the boat, you will miss dinner!
We expect to be back at Wrest Point by 11PM.
If you have any questions about the dinner, please send us an e-mail at contact@pycon-au.org.
FAQ
I didn't register for the dinner. Can I still register?
Can I purchase another dinner ticket?
Yes! As long as you let us know by Wednesday 15 August, we can register you for the dinner. If you registered as a Professional or an Enthusiast, your first dinner ticket is free. All further tickets will cost $85 each.
Please send us an e-mail at contact@pycon-au.org to organise tickets.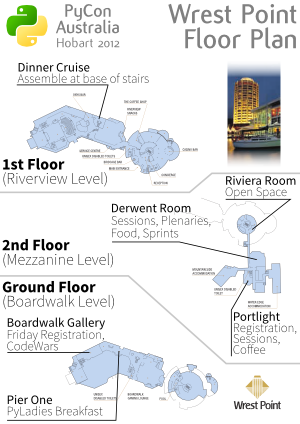 Where do we meet for the cruise?
The cruise will depart from the jetty at Wrest Point. Delegates will be asked to gather at the base of the stairs near Pier One (see figure right). The return cruise will drop delegates back at Wrest Point.
Images: Peppermint Bay