About Wrest Point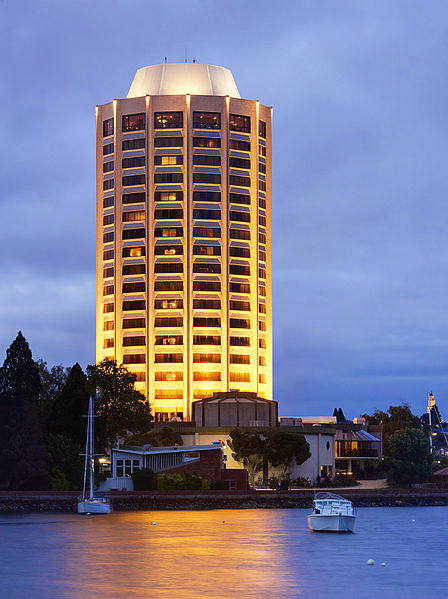 The venue for PyCon Australia 2012 is the Wrest Point Convention centre in Sandy Bay. We're really excited about our choice of venue — as well as offering us perfectly-sized rooms for our conference, the wide variety of spaces in the complex allow us to bring all of the traditional PyCon Australia events — CodeWars, the sprints and the conference itself — under the same roof for the first time.
Wrest Point is situated on the shoreline of the River Derwent, and this not only admits excellent views from the conference venue, but will also enable us to run some truly memorable social events, including the conference dinner, featuring a cruise to Peppermint Bay, departing from the docks at Wrest Point.
Delegate Accommodation
Our venue also lets us offer accommodation across a very wide range of budgets (starting around $124/room/night) to our delegates — this is not just a nominated conference hotel, it's in the same building complex as the conference venue. This means that delegates can stay on-site for the entirety of the conference. We think this will prove very popular, especially amongst delegates sticking around for the conference sprints.
More information about conference accommodation can be found at our accommodation page.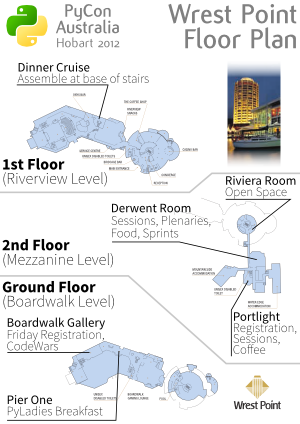 Conference Rooms
PyCon Australia is being held in the Original Hotel part of the Wrest Point complex -- a 1930's-era Art Deco hotel, lovingly maintained, and perfectly suited to our conference. We've posted a comprehensive venue tour if you'd like to see inside the building.
Photo credit: Wrest Point Casino by Wikipedia user JJ Harrison, CC-BY-SA