About Hobart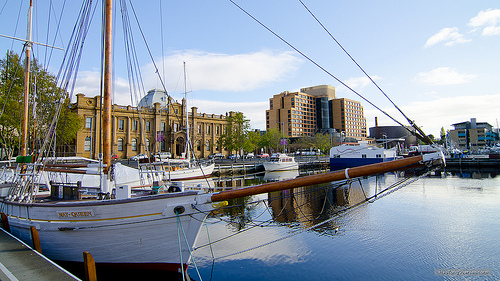 Hobart
Hobart, Tasmania is Australia's southernmost capital city. Home to some 200,000 people, Hobart is nestled on the estuary of the Derwent River, and sits in the shadow of the often snow-capped Mt Wellington. To the south and west are pristine World Heritage-listed rainforests; and to the east sits the Port Arthur Historic Site, home to one of the most notorious prisons of the British colonial era. Closer to home, Hobart is undergoing a revolution in the arts and music communities, spearheaded by the Museum of Old and New Art, 10 minutes drive north of the city.
The city plays host to many international events and festivals, and has hosted many technical and open source conferences, including Linux.conf.au 2009, and SAGE-AU 2010.
Climate
Hobart is Australia's southernmost capital city, and hence experiences temperatures slightly cooler than those on the Australian mainland. The average temperature range in August is 5º--13ºC (as compared with 7º--15ºC in Melbourne and 9º--18ºC in Sydney). Hobart experiences relatively little rainfall in August (50mm, similar to Melbourne), but you should still pack expecting rain.
Getting There
By Air
Hobart Airport is currently served by Virgin Australia, Qantas and Jetstar. Direct flights operate from all eastern capital cities, as well as the Gold Coast. There are also regular flights from Casey Station, Antarctica. The conference venue, Wrest Point, is located 22km from the airport, with bus transfers and taxis available from the airport.
By Road and Sea
Spirit of Tasmania operates a nightly car-carrying ferry service between Melbourne and Devonport. Hobart is approximately three hours drive from Devonport. Alternatively, there are coaches between the Devonport Terminal and Hobart operated by Redline Coaches.
Quarantine
Tasmania has some of the world's most stringent quarantine regulations. Strict quarantine requirements are in place to protect the State's environment and primary industries from introduced pests and diseases - from both overseas and the Australian mainland. For more information, please see the Quarantine Tasmania web site.
Photo credit: Hobart 2011 by Flickr user hto2008, CC-BY-NC