Frequently Asked Questions
Registration
Registration is where you pick up your badge, shirt and other goodies and check-in to attend the conference. Registration will be open Friday night before CodeWars and Saturday Morning in different locations.
See: http://2012.pycon-au.org/programme/registration for details.
Food and drink
CodeWars: Canapés and light snacks will be served at Codewars on Friday night. Drinks are to be purchased at the bar with the first round redeemed with a voucher from check-in courtesy of Kogan.
Conference: Morning tea, lunch and afternoon tea will all be served to delegates of PyCon AU. Food will be served in Derwent 3 with refreshments in the Portlight Bar. There will be a selection of different types of finger foods and options available to those with special dietary needs.
Sprints: Morning and afternoon tea will be served for hungry hackers. For lunch and dinner we encourage participants to go out in groups and find somewhere to eat or dine at one of the on-site restaurants. Coffee and Tea will be available throughout the day.
Coffee
Coffee will be available at the Portlight Bar kindly sponsored by Secret Lab. Expect high quality beverages from Ritual Coffee Tasmania.
I'm lost! Do you have a map?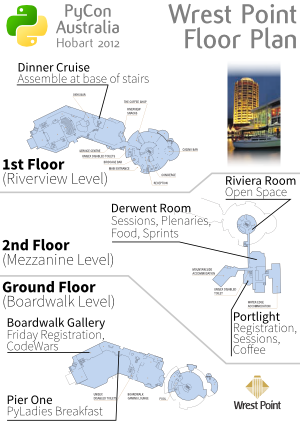 Why yes, we do have a venue map (see left)! You can also get your bearings from Google Maps.
Dinner details
On Saturday night dinner will be held at Peppermint Bay. Transport will be via boat departing from Wrest Point's Jetty outside Pier One (see map above). We have a tight schedule to stick to so make sure you board the boat in time because we will leave without you!
5:15-5:35 Gather near staircase outside Pier One (see map above) to wait outside of the cold.
5:35 Follow the volunteers out onto the Jetty to begin boarding.
5:40 Final call for boarding the boat.
5:45 Boat departs for Peppermint Bay.
6:50 Boat arrives, dinner starts.
10:00 Guests are rallied back to boat.
11:00 Boat docks back at Wrest Point.

A drinks package will be served on the way and at Peppermint Bay. The first round of drinks will be kindly sponsored by Mozilla. On the return trip there will be a cash bar for purchases.
Derwent Room explained
Why are some things in Derwent 1, some in Derwent 3, some in Derwent? What about Derwent 2!?
The Derwent room is one big room with partitions. It is possible to partition it off into three separate rooms but we'll only ever be partitioning it off into two: Derwent 1, and a combined Derwent 2 & 3, with signage for Derwent 3. In the morning and afternoon sessions the partitions will be folded back to have the rooms configured as our plenary theatre for the keynotes and larger sessions. Between morning and afternoon tea the partitions will be drawn creating two rooms for our three track sessions (with the third track being in the Portlight Bar).
Food service will be provided in a sectioned off area at the back of the Derwent Room.
What clothes should I bring?
The average temperature range in August is 5º--13ºC so pack lots of warm clothes. Hobart experiences relatively little rainfall in August, but you should still pack expecting rain. While the cruise is on a river estuary, you don't have to sit outside (the ship is heated inside). Other than dinner we have no planned expeditions outside and we hope to light a fire for the sprints so we should all be comfortable.
How do I get to Wrest Point?
Google Maps will help get you directions. But if you want to share rides from the airport, some delegates have arranged an ad-hoc list to meet up at the airport: http://pycon-meetup.jeamland.net/.
My shirt is the wrong size!
Swaps of shirts will be available only after morning tea on Sunday. If your shirt doesn't fit you and the size is the one you purchased you may be able to swap it at the registration desk. Please do not wear the shirt if you intend on swapping it.
What is the easiest way to get around the city?
Metro TAS is the local public transport provider. There are a couple of stops along Sandy Bay Rd (next to the hotel) that go to the city (and return to). Check out this timetable.